The cable specifications and models used by inflammable and explosive enterprises shared by Cable Detection Equipment Factory.
1. Flame-proof and flame-retardant control cable
Application scope of control cable: it is suitable for signal transmission, control and measurement system of electrical instrument and power distribution device in metallurgical, electric power, petrochemical and other industrial and mining enterprises with rated ac voltage (U 0/u) 450/750v and below. Its rated voltage is: 0.45/0.75kv. Common product models are: zria-kvv, zria-kyjv, zria-kyjvp, zria-kvvr, iazr-kvvrp, iazr-kvvp, iazr-kvvp2, iazr-kvvp22,IAZRKVVP32, zria-kvvp2-22; ZRKFV ZRKFF, ZRKFVP ZRKFVR, ZR KFFR, etc. The maximum long-term allowable working temperature of cable conductor: 90℃ for cross-linked polyethylene insulated cable, 70℃ for polyvinyl chloride insulated cable, 70℃ for low-smoke halogen-free flame retardant polyolefin insulated cable, and 150℃ ~ 250℃ for fluoroplastic insulation. Silicone rubber insulation is 180℃.
2. Flame-retardant and explosion-proof computer cable
Scope of application: computer cable to wring shielding signal cable belong to one of the special cable, electronic computer system is in urgent need of modern industrial construction of form a complete set of products, widely used in the energy industry, metallurgy industry and petroleum, chemical industry and other industrial enterprises and scientific research departments of electronic computer, instruments and meters, all kinds of automatic detection equipment, and other information transmission and control system; It is especially suitable for the computer distributed control system to transmit the test, control, analog and digital signal of the process variable of the production device. Common cable models are: zria-djyvp, zria-djypvp, zria-djyp2vp2, zria-djypv22, zria-djyp3vp3, zria-djyvp32, zria-djyp2-22, etc. PVC insulated cable is 70℃, crosslinked polyethylene insulated cable is 90℃, fluoroplastic insulated cable is 150℃ ~ 250℃.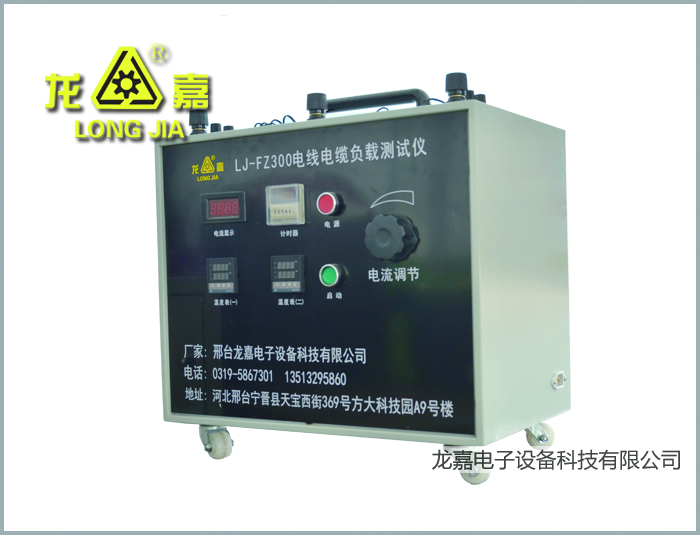 LJ-FZ300 Wire And Cable Load Tester
3. Flame-retardant and explosion-proof coaxial cable
This product is flame retardant and explosion-proof video coaxial cable, which is suitable for signal transmission connection feeder in video monitoring system of petroleum, chemical industry, fire control, mine and underground. This series of flame-retardant and explosion-proof radio frequency coaxial cable must be laid separately for application. This product has flame retardant and shielding property.
Zriasyvvvvp-75-3, zriasyvvvp-75-4, zriasyv-75-5, zriasyv-75-7, zriasyv-75-9, zriasyv-75-12,
Iayv-50-3, iayv-50-5, iayv-50-7, iasyv-50-9, iasyv-50-12
Main technical features
1. IASYV - 75 series of characteristic impedance is 75 Ω;
2. IAYV - 50 series of characteristic impedance is 50 Ω;
3. At 20 ℃ insulation resistance of cable should be no less than 5000 m Ω · km;
4. Flame retardancy of the cable passed single vertical combustion test in mt386-1995;
5. Applicable environment and working conditions,
Explosion-proof cable varieties have control cable, signal cable, computer cable, coaxial radio frequency cable and other IA grades. Explosive gas mixtures cannot be ignited when there is one or two faults in the circuit under normal working conditions. In the IA circuit, the working current is limited below 100mA, suitable for chemical industry, oil refining, ship, etc.
Class IB: explosive gas mixtures should not be exposed to alene under normal operating conditions and in the presence of a fault in the circuit. In the IB circuit, the operating current is limited to less than 150mA, suitable for mine and explosion-proof equipment.
We supply Adjustable Working current Cable Load Tester, Cable Chipping Machine, welcome to purchase our products.